Welcome to my official site
Kinkster and naughty tease from hell. You can make me your personal plaything, the Goddess you worship, or the princess you spoil. I'm your fantasy girl. I'm gentle and caring, seductive and sensual, hedonistic and carnal, bratty and playful, cruel and intimidating, soft spoken and subservient.
This is the place where all of my hottest content can be found in one place! Public sexcapades, hot girl/girl action, , bdsm, and of course videos of me being a teasy little minx. I really get off on you watching me suck, fuck, and play. Come inside and play with me I even host member's only shows that you will not want to miss!
See you soon! Spanks and kisses, Violet
xoxo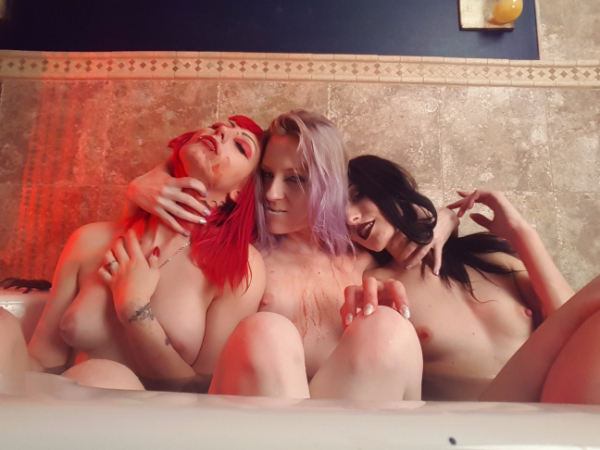 If you follow my twitter, snapchat, instagram or have seen me on cam.... You probably know that I spent a week in a magical city named Pleasantville for Lucy Goose's Cam Cabaret last month.

The Cam Cabaret is a new event produced by @MissLucy_Goose. She wanted to create an all new kind of event for models who are doing things a little more different - she aimed to give them a space in which they could work together, inspire one another, motivate each other, lift each other up, and create beautiful things together.

A handful of women were given space in her cozy, beautiful, and magical home for a week - and the magic that was created each week this event happened...is beyond incredible. The friendships that were made are unforgettable. When you invite a group of talented, creative, hard working, and driven women into such a warm, loving, inspiring, space.... what's bound to happen is nothing short of amazing.

I know a lot of models were too nervous to apply. I was too for quite a while. I remember looking at the application questions and crying on my roommate's couch because I didn't think I would a good enough, creative enough, or talented enough web cam model and content creator to get accepted into the event. I ended up sitting down with one of my best friends, @Alexxxcoal, to encourage each other and beat into each other's heads why we were (are) talented enough camgirls who have things to offer and teach other performers. It was hard - the questions in the application really did make you look at yourself and what you have to offer to the community.

But this was a good thing! You had to think about all the ways that YOU ARE AWESOME - which was pretty damn empowering by the time I hit "send." It's so, so easy to focus on all the reasons why we suck; it's so easy to believe we aren't good enough/as good as the next girl. I knew at the end, that even if I didn't get accepted to the event, I'd already gotten something positive out of just applying. I was already a teensy more confident in myself as a part of this industry - even though I was still scared shitless. Stupid anxiety.

And the best part of it? I did this with a friend! I got to have Alex build me up each time a question made me anxious and I started to doubt myself, and I got to help build her up when a question made her anxious and she started to doubt herself.

And that kind of interaction is basically when the entirety of the Cam Cabaret was. All week long we shared a home, beds, baths, and meals together. All of us were dealing with our own personal crisis all week long - and, damn... I'd like to say that all of us handled them with sheer grace. It was pretty fuckin' impressive seeing how strong all of us were.... individually and as a group.

We shared tears, hugs, stories, cuddle piles and made incredible memories all week long; we put our heads together to problem solve in the most creative of ways; and we all used our personal strengths to build each other up when we were down.

Every woman there had a unique gift and something to share with the others; it was a house of incredible amounts of talent, drive, and beauty. And just as every woman had something to teach, we were all eager to learn from one another.

If you're a model and were too scared to apply..... I sincerely urge you to reconsider when it's time to apply again. There's nothing scary or intimidating about Lucy or her home in Pleasantville. It's the most warm and inviting atmosphere you'll encounter; and this event will seriously change your life. Applying to this event is a kindness and gift to yourself.

If you're a model who applied and didn't get accepted.... please don't take that as a reflection of your talent as a model/content producer/creative force. Her home is not a large one and she can only host 8 models at a time.

If you're a cam site member who likes a model who wants to attend.... If she does any kind of pre-order, jump on that shit as soon as you can.

I feel absolutely blessed to have been a part of the Cast of the week I attended. I am so thankful to Lucy for creating as safe of a place as she has. I learned so much, created so much beautiful content, and created friendships that I know will be very important to me.


Below, I'm posting the twitter links to the ladies I shared this wonderful week with. They're fucking amazing, and you should follow them!

https://twitter.com/MissLucy_Goose

https://twitter.com/normachomsky2

https://twitter.com/AlexxxCoal

https://twitter.com/YassIckyVickie

https://twitter.com/WingID_Lust

https://twitter.com/xxxmaren

https://twitter.com/CamCabaret